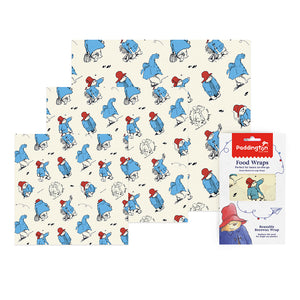 Paddington Food Wraps are a natural alternative to plastic wrap for food storage. From start to finish; close attention is paid to the ingredients and materials used throughout the entire production process. The wraps are reusable, biodegradable and compostable. Each pack comes with a small, medium and large wrap, allowing customers to experiment with the wraps and determine which sizes work best in their own kitchens.
Ingredients: Global Organic Textile Standard-certified organic cotton. Beeswax. Organic jojoba oil. Tree resin.
Use: Wraps should last about a year with use a few times per week. It is not recommended for raw meat. Keep the wraps away from heat sources such as hot water, ovens, dishwashers and microwaves. The wraps are biodegradable and compostable.